Rockstar's Best Creation So Far
This Rockstar's recreation of the wild wild west gives us a primarily feeling of being into an authentic movie. Red Dead Redemption 2 presents a story that is beautiful, dangerous, quite unexpected and we guarantee that it will keep you close to the screen. Available on PS4 and Xbox One since 26th of October 2018, we find the game is a total masterpiece, and we will tell you why.
---
Numbers Don't Lie
Biggest opening weekend in retail sell-through across all entertainment releases, generation $725 million;
Second biggest launch (three days) in retail sell-through across all entertainment releases;
Biggest entertainment launch of 2018;
Most pre-ordered full game ever on PlayStation Network;
Biggest day one full game sales ever on PlayStation Network;
Biggest first three days full game sales ever on PlayStation Network.
---
Going Through

Understanding these numbers is quite easy since the gameplay has considerable improvements from the last one and unexpected oddities. In fact, Red Dead Redemption 2 visuals and meticulous sounds transport you to another time and place, more than anything else.
The prequel has an immersive open world that is a constant delight to explore, consider the variety of the scenarios perfectly well worked, such as deserts, swamplands, frozen mountains, small towns, large cities and so on. 
You take the control of Arthur Morgan, an outlaw and elite member of Dutch Van der Linde gang. Actually, you'll be an individual gang member since the very beginning. So prepare yourself because most of the missions you are going to pursue are done to fill your pockets with money and grow the gang. In fact, you are free to help, to rob, to loot or simply ignore the characters that pass through you.
This typical lifestyle of the wild west will give you multiple chances to cross with a lot of people along the history.
As a result, those interactions will evolve depending on the order you complete quests, and prior events are often referenced by the people you work with. Outside of these jobs, you can decide to catch up with your associates back at camp again.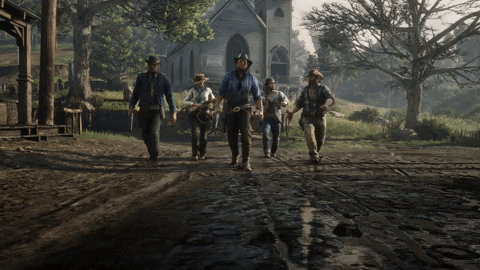 This game definitely tests your interactive capacities and respects your own will of taking actions, establishing your own path and consequently the ability to take the responsibilities that will result from it.

Game's Narrative

However, the game's narrative has a very slow and deliberate pace to maintain all the reality and details of it. We know that for most of the players it can reveal to be boring sometimes.
For us, that downtime makes sense considering that it serves a higher purpose of thoroughly immersing the player. In fact, the slowed pace rhythm will bring you closer to the old west lifestyle. As well as Arthur character itself.

The details that Rockstar prepared for you truly complete the gameplay experience. From Arthur's facial hair growth in the game's real-time, to the fatigue that he'll suffer if he doesn't eat or even the dirtiness of weapons that will appear if you don't clean them. The attention to the detail is amazingly thought.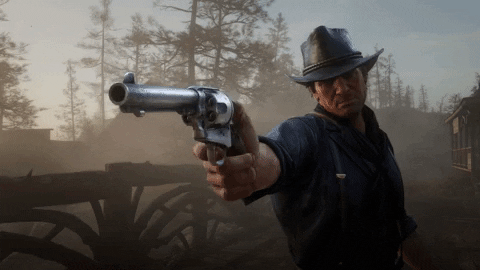 The gunplay, in general, is thrilling and exciting with the improved Deadeye. This system has evolved, allowing you to slow time and line up your shots, helping you to take as many bad guys down as you can. In fact, shoutouts are magnificently cinematic due to the details of gunsmoke and all the death animations involving the confronts.

In Red Dead Redemption 2 it's all-everything unbelievably convincing and it feels lived-in. All of the actions help you build and shape personal attachments to the situation itself. The experience of playing is undoubtedly unique. It's a landmark achievement for Rockstar and for overall video-games.

For us yes, is the best open-world game ever made and the best Western game ever created.
However, if you are used to the agitated pace of other games, this may not be the game for you. It is a slow and rolling story across a massive landscape. But, If you like open world games or you like westerns or you just generally love good video games that suck you into their story, you'll love this one.
Online Version
Red Dead Redemption 2  also includes access to Red Dead Online. It's the evolution of the classic multiplayer experience. 
Choose to make your mark as either a gunslinger or an outlaw. Join or form posses, battle enemy gangs, hunt, fish and search for treasure, challenge other settlers and much more in this brand new multiplayer story." by Rockstargames.com.