The Remake
Resident Evil's 2 as come back again with a nice and remarkable remake. Originally launched in 1998, the survival horror masterpiece – Resident Evil 2 – it's by far one of the most iconic games of all times. It's been already 20 years and the hard work from Capcom team truly paid off.
Every detail was clearly updated – everything has been modeled and rendered in a more advanced resolution. The scenery and the characters are better polished. For all the lovers of horrific gameplays out there you will feel pleased and satisfied with the solid and heavy atmosphere of it.
This remake gives you the opportunity to play both campaigns of Leon Kennedy or Claire Redfield in the Infested city of Raccoon. The zombies are out there and there are new missions, puzzles, and areas that will certainly give you terrifying surprises.
The characters, environments, and story have all been rebuilt from the ground up
to create a terrifying world that feels both nostalgic and new." – Capcom ( via Resident Evil 2).
Gameplay
On an infected Racoon City and among its darkness, you'll have to be triple aware of what's around you. For that reason, Resident Evil 2 gives you full three-dimensional camera management. This way, you can better control what's around you.
Having that quick turn is essential for when the situation alongside the zombies finds you in danger. In fact, the third person perception gives you a better perspective on what it can be right next to you at any time.
You can play either as Leon Kennedy or Claire Redfield and it's interesting to play both sides. Their story was written differently and it can give you new perspectives from the same environment. Both characters have their own personality and that gives unique gameplay for each.
After you play and finish the campaign from one character, the other will be automatically unlocked. However, you'll probably feel that the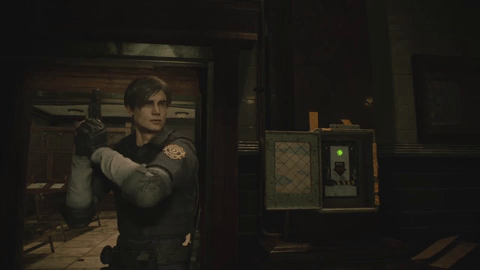 The new gunplay is another spec that stands out from this remake. The shots are impactful and their damage is truly explicit. However, this time, the ammunition is limited.
This can be very stressful, but at the same time broadens and makes the gaming experience more realistic. You'll feel the struggles and danger in a horrific and dubious map, and that's one of the beauties of this challenge.
There are a lot of puzzles during the whole game, which we found to be very entertaining and challenging.
In fact, you'll have to pass through some obstacles along the way. It's very important to be aware of the objects around you, they can end up being life saviors, without you to notice it.
Ideal for horror lovers
This game truly scares! Even though you played other zombie games, we consider this one of the most intense of them all.
You can count with spooky Mr.X's slow footsteps coming out of nowhere or with the infected t-virus zombies, the lickers, with their lack of skin and exposed brains waiting for you to come at them, and much more!
Another plus about this game is the sound work. The soundproofing is really well produced and it raises the thrilling tension of the game.
Even though the voice actors were all replaced, the actual ones are truly credible and they get along with the surrounding atmosphere.
The unordered and spooky music establishes the overall scenario that will immerse you throughout the apocalyptic environment.
This remake brings Resident Evil 2 back and better than ever, giving a great homage to the classic game.